20 Vegan Asparagus Recipes for Spring
This page may contain affiliate links, which means I will make a small commission for products purchased through my link.
20 springy vegan asparagus recipes to make this season, from gorgeous green breakfasts to easy sides and heartier main dishes. If you've ever wondered what to do with asparagus, this roundup will give you all of the asparagus inspiration.
When is Asparagus In Season?
Asparagus is best enjoyed from the months February to June, with April being peak asparagus season. Look for vibrant, robust asparagus that's firm, not wrinkly. Asparagus is available year round for the most part, but spring asparagus is flavourful like no other! You can also find more interesting varietals like purple or white asparagus during this timeframe and asparagus tends to pair well with other spring flavours like spring garlic, peas, pea shoots and lemon to name a few.
How to Prep Asparagus to Cook
Wondering how to cook asparagus? You've got options! You can steam, sauté, oven roast, char, bake, blanch and even enjoy raw. I'll be sharing easy asparagus recipes that highlight several ways to cook this beautiful green veg. Here are 20 delightfully easy asparagus recipes to try your hand.
20 Best Asparagus Recipes to Try this Spring
Breakfast Ideas with Asparagus
First up is breakfast–my favourite meal of the day! These asparagus recipes make it easy to get the greens in first thing in the morning and if you like savoury breakfasts, you will love these.
Here's a springy Vegan Asparagus Quiche with peas, artichokes and a side salad of pea shoots with lemon vinaigrette to brighten it up!
This vegan frittata uses tofu as the main ingredient and it's so delicious you won't even recognize the flavor. Add any veggies you like and have with a side salad for a perfect lunch.
This breakfast is something in-between a savoury French toast and scrambled eggs on toast–Eggy" toast!
These vegan asparagus spirals are super simple to put together, but they look like super fancy appetizers!
Finally, a creative asparagus dish with vegan hollandaise. Classic hollandaise sauce is mostly egg yolks and butter but this steamed silken tofu hollandaise gives the same creamy consistency and paired with asparagus make a delicious and rich combo.
Best Asparagus Side Dish Recipes
Charred Asparagus and Mango-Tomato Salsa. This recipe is fresh, clean and green, and perfect for asparagus season! Charring is a great method for warm and crispy asparagus, that's not too soft on the inside. Then top with a refreshing mango tomato salsa for an early summer inspired recipe.
This lemon asparagus recipe is simple, quick, and puts the asparagus on the center stage. Plus, it's cheap and delicious, and super family-friendly. Let's get roasting!
Make a bright green, nutrient-packed bowl of vegan Asparagus Zucchini Soup with fresh greens, herbs and vegetable broth. It's one of the best asparagus recipes, my go to for the spring and perfect for a quick and easy meal.
Tender spring asparagus pieces are simmered up in a creamy dill-seasoned white bean base to make this hearty and flavorful vegan soup!
I love an easy roasted asparagus recipe. The lemon, fresh garlic, & vegan parmesan gives this recipe flavour and Vegan & gluten-free.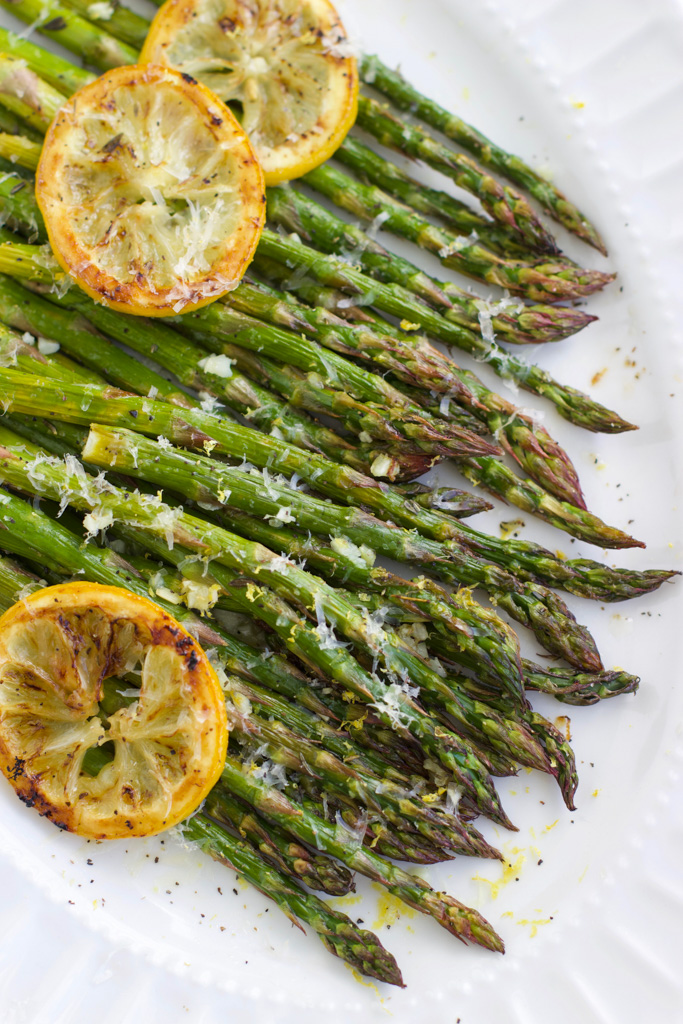 This asparagus salad combines springy seasonal produce – crisp radishes, asparagus, sweet peas, and fresh herbs. It's easy to make, and it's flavorful, bright, and refreshing.
This simple spring soup includes two very springy vegetables: asparagus and peas!
These garlic and 'Parmesan'-crusted asparagus spears make a tasty side dish, snack, or party appetizer. Easy and elegant!
Healthy Entrees with Asparagus
Cozy, comforting, hearty but also high in protein, this Mushroom Asparagus Lentil Risotto does it all. It's creamy, warming and made with only good-for-you ingredients. The secret? The lentils, which disguise themselves as part of the rice in this risotto. They're high in protein and undetectable to the naked eye.
Lemon and Thyme Asparagus Pasta is a perfect spring time recipe, but it's also budget-friendly and full of health benefits.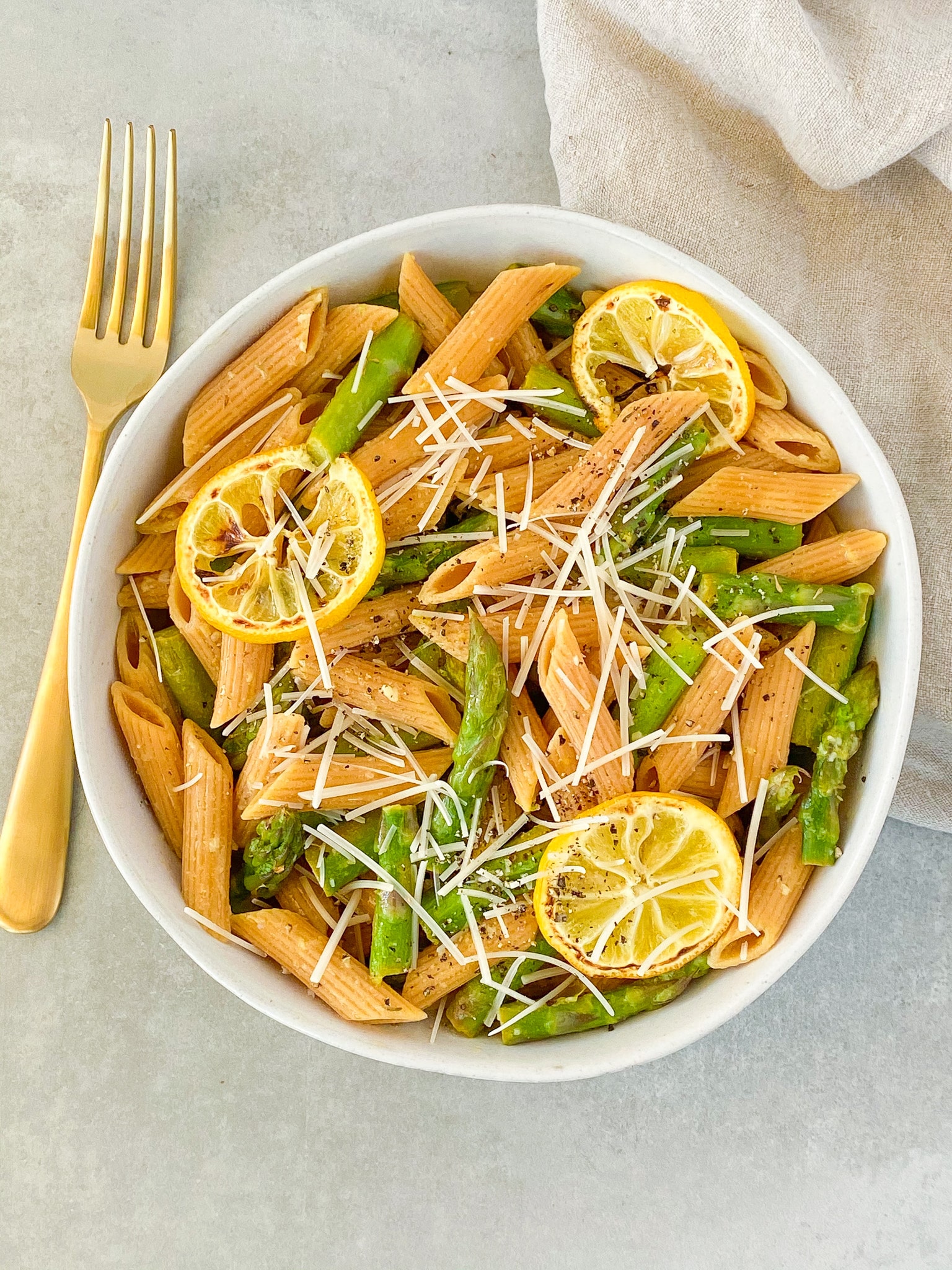 If you love easy asparagus recipes this one's for you! This flavor packed creamy one pot pasta is easy to put together and is ready in just 30 minutes.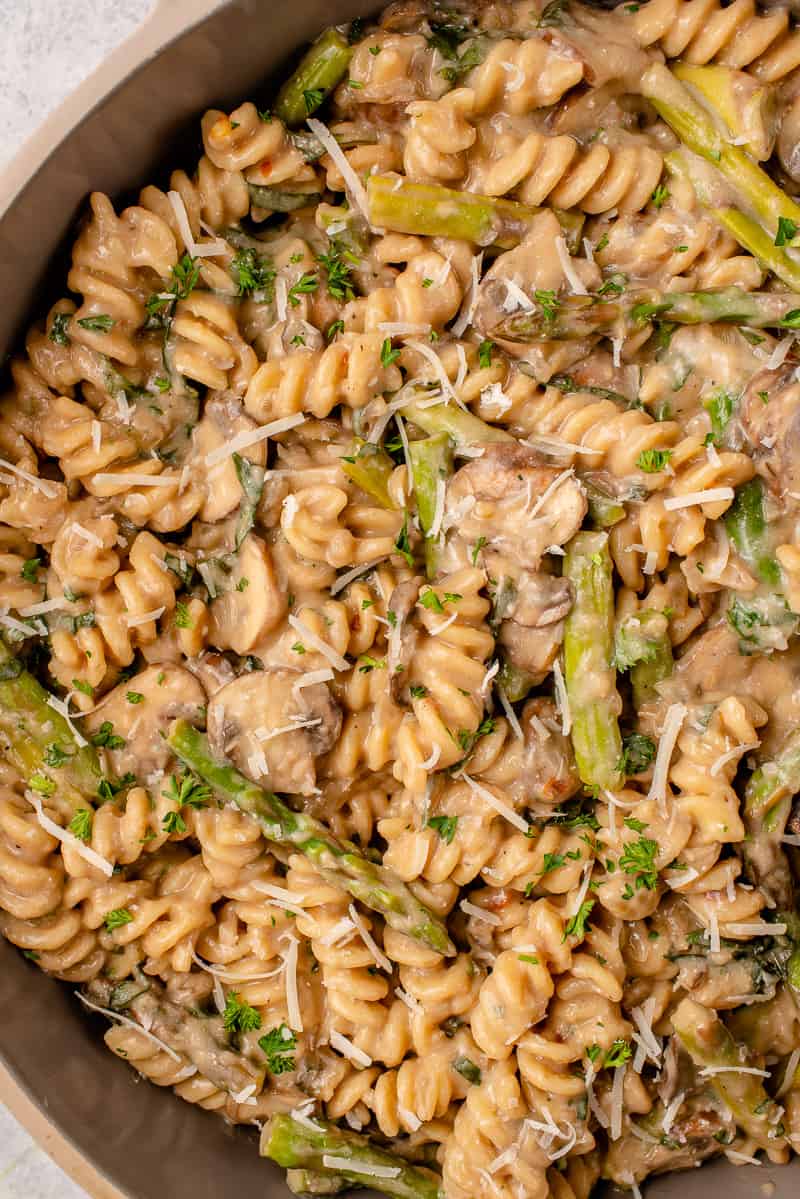 Looking for an easy fuss-free vegan meal to prepare at home? Try this sheet pan lemon pepper & herb tofu with asparagus. It takes less than an hour to make and requires simple ingredients!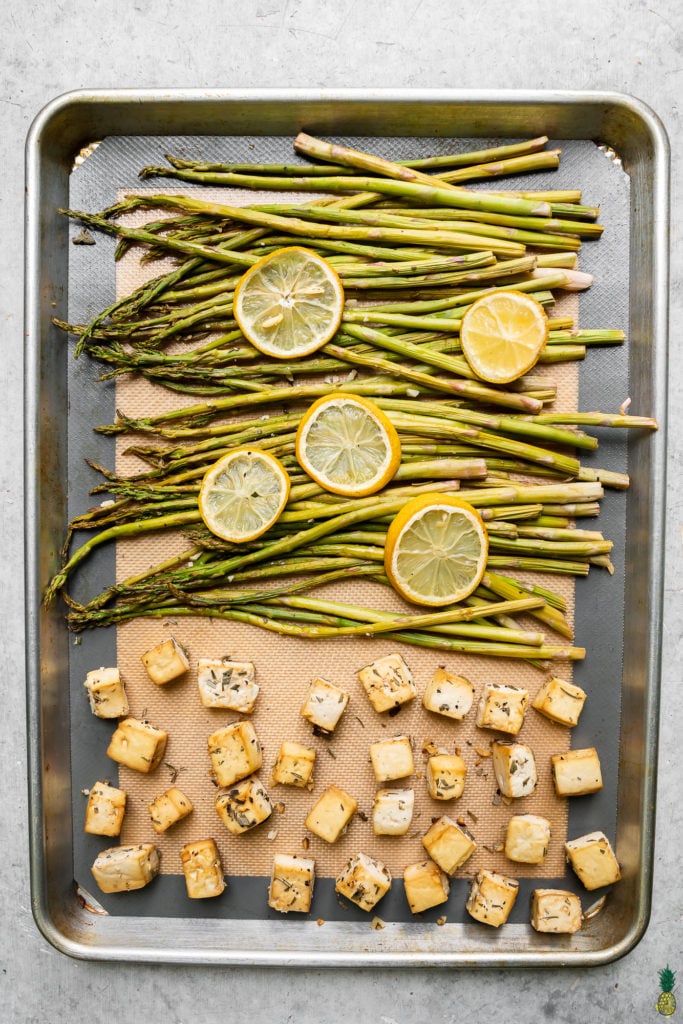 This asparagus soup is the perfect quick and comforting dinner recipe with white beans, lemon and potatoes.
This vegan Roasted Spring Vegetable and Pesto Pasta is easy and delicious! Oven-roasted vegetables combine with pesto and pasta for a fuss-free dinner.
Protein-packed and perfect for spring, this French green lentil salad makes a lovely side dish, main course, or spring potluck dish. Roasted potatoes and asparagus are folded into the salad along with a tangy mustard-lemon dressing.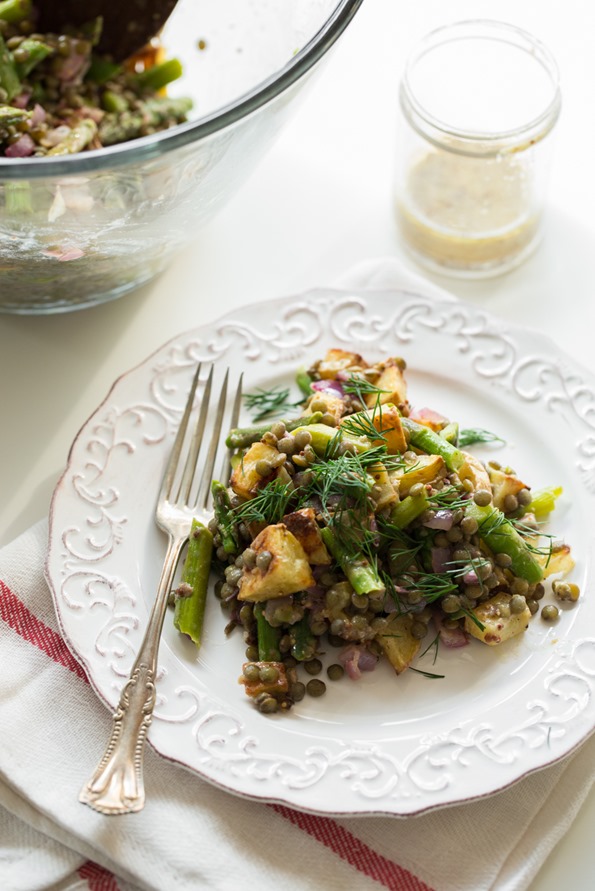 These creative Asparagus Tacos in escabeche make a great spring meal. Quick and easy to pull together, and packed with flavor, you'll be enjoying these vegan tacos more often than just Tuesdays!